In the world of digital presentations, Calibri has emerged as a go-to font for its clean design, exceptional readability, and modern appeal. Developed specifically for on-screen legibility, Calibri offers several advantages for creating clear and professional presentations. Let's delve deeper into what makes Calibri a popular choice: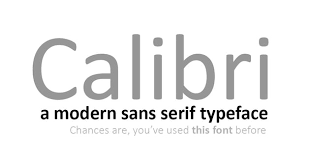 On-Screen Readability:

Calibri's design is optimized for digital displays, ensuring readability even at smaller sizes.
The generous spacing between letters and balanced proportions make it comfortable to read for longer periods, reducing eye strain for the audience.

Contemporary and Professional Look:

Calibri's sans-serif letterforms have a contemporary and sleek appearance.
Its rounded letter shapes add a touch of friendliness while still maintaining a professional and polished vibe.

Versatility and Flexibility:

Calibri is a versatile font that works well across different presentation styles and themes.
Whether you're creating a corporate presentation, educational slides, or a creative pitch, Calibri offers a clean and adaptable foundation.

Compatibility and Accessibility:

Calibri is widely available on most computers and devices, ensuring that your presentations retain their intended design even when shared or presented on different platforms.
Its widespread use also contributes to its familiarity, making it a comfortable and accessible font for a wide range of audiences.
Calibri's contemporary design, optimized on-screen readability, and professional appearance make it an excellent choice for creating clear and engaging presentations. Its versatility and compatibility further enhance its appeal, making it a reliable font for various presentation needs.