" YES YES YES… I am a Writer, And I do nothing else but Write. I earn my Bread and Butter from it… Bhavik Vaghela states this in Public.
Bhavik Vaghela is a Writer based in Ahmedabad Gujarat. Who works 24*7 days as Writer. He earns money through writing and being a Public Oral Recital in Pan India. He proudly Introduces himself as a Professional writer just like any other professional person does. For eg:- I am a-Policeman, I am a Businessman or I am an Engineer. Just like them, I write and that is how he stands out in the Crowd.
Bhavik Vaghela is the Author of a Book named " Reborn athak Praytno nu Chamatkari Parinam". He has also penned several books which are Khayali Baatein, Feelings of Life, and also co-Authored Safarnama 1 and Shadow of Soul. He is so captivated by writing that he can want to write on all subjects. The above-given books are written in poetic or gazals genre. The Recently Published Book Reborn athak Praytno nu Chamatkari Parinam" is based on a true events. The incident is personally experienced by Bhavik Vaghela. This book is very important for today's world as it is not a Rom-Com, or a Horror, or Thriller story but a story of an Undiscovered Disease. Yes, you read it right. This book is based on a very rare disease. The ratio of this disease in India is very low but in USA or Canada is found in numbers. They also put nips in the bud of this disease. This story revolves around a two-year-old kid, who was diagnosed with a Disease Named "NMDA Receptor Encephalitis" in India. The number of patients diagnosed with the same disease is so low that you can count it on figures. The story tells us how this little boy is baffled by disease, treatment, Death, and Rebirth, which is why this book has been named Reborn. A child's courage and spirit make him fight the disease, and barely escaping from the jaws of death.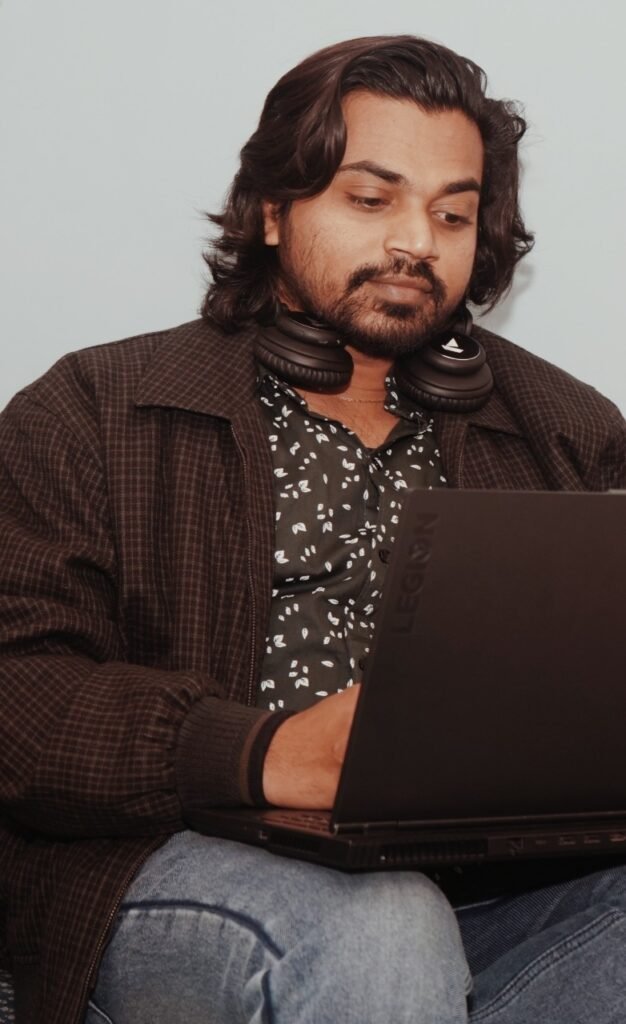 He has also written many short stories. He also won a story Competition held in 2020, where people loved his work. You can still find and read it on Google. His Earliest self-written books are called Khayali Baatein (Author), Safarnama 1, and Shadow and Soul (Co-Authored).
Apart from that he has a keen interest in writing poetry, Hindi Gujarati Songs, and Movie Scripts and he has done oral recitals too.
As we all know Hanuman Chalisa was written in the 16th Century by Tulsi Das and Recently Bhavik Vaghela has written Krishna Chalisa in the regional language. It consists of all 108 names of lord Krishna and is also sung by himself. Krishna Chalisa was first launched publicly on Janmashtmi in 2022.
Bhavik Vaghela belongs to Gujarat, where most of the population has their own businesses. Becoming an artist is like walking on a warpath.
When I muse on my life's journey I see myself completing a Diploma and Degree in Electronics and Communication Engineer. After that, I did my MBA in Operations. While doing these study I eventually discovered an adoration for books. With that, I realized that I am more into Writing. The moment I had this Enlightenment I left other work and started doing this with my whole faith. Like we all face, I went through a phase where my family and friends started taunting me for choosing this field of work. They poked me in my face stating that I have gone mad. This only fuelled me to learn more and I ended up taking workshops at IIM Bangalore. I became a decorated writer, and bagged awards and certificates too. My a-lot of work has been displayed in Newspapers, News channels, Magazines, and other publications. Those who take Rahat Indori, Kumar Vishwas, and John Elia as their idols, want to learn their aptitude to recreate the same essence with their own talent.
Bhavik Vaghela's work has reached immense audiences through youtube in the form of songs, poetry, and story recitals. And now he wants to try his hands on Rap. The upcoming song is solely a Rap Song that will pierce into your hearts more than any written song or story. To know more about him and his works, follow him here
Social Media:
https://instagram.com/bhavik.vaghela.940?igshid=ZDdkNTZiNTM=
https://www.facebook.com/bvaghela68?mibextid=ZbWKwL
https://www.facebook.com/bhavik.vaghela.940?mibextid=ZbWKw